Revl for Racing Experiences
Meet your new media team.
Powerful hardware combined with advanced software automatically transfers, analyzes, edits uploads, and delivers a hand-full of customer videos in under an hour.
Never charge, transfer, or reformat again, the box does it all automatically. Now, all your staff members have to do is drop the camera in the box and their job is done.
Automatic Cloud Delivery
As soon as a the video and photos are done processing, they automatically upload to the Revl cloud and are delivered to your customers via email and mobile app.
Branded Email & Delivery Page
Customers receive a branded email that links them to a web delivery page where they can watch and download their videos and photos.
Mobile App
Customers can get their video and photo packages minutes after their ride directly on their phones, no need for a computer.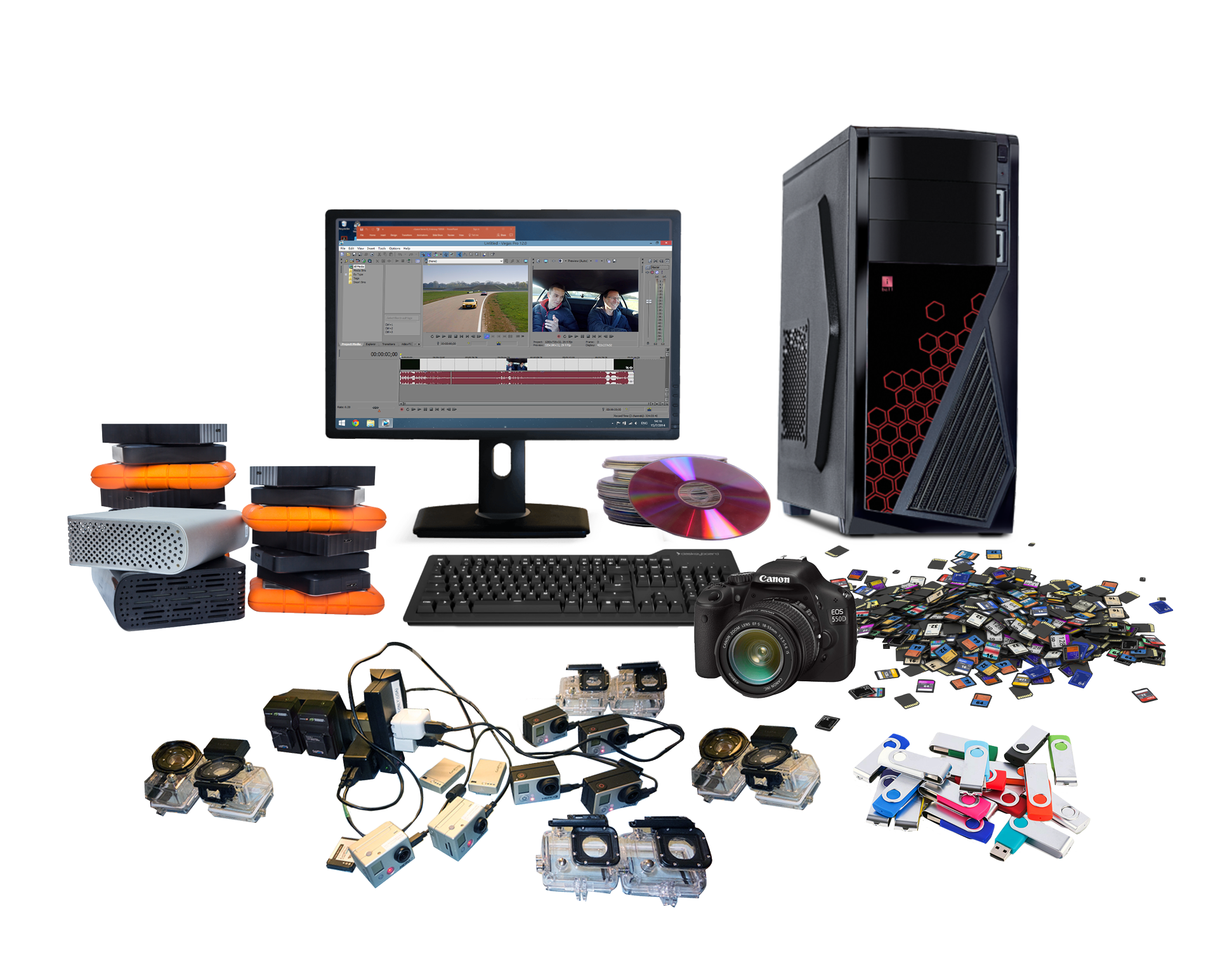 Never deal with this mess ever again.
Revl's compact editing box replaces all your outdated hardware and does everything an editor would do 100% automatically.
Never again:
• Use complicated editing software
• Deal with computer and software crashes
• Charge camera batteries
• Transfer video and photo files
• Backup hard drives
• Reformat SD cards
• Manually upload to a cloud or USB Drive
• Manually email videos and photos
Videos edited by artificial intelligence.
A.I. Video Analysis
Revl's A.I. uses computer vision, audio, and motion data to detect what is happening in the video and find the best parts to include in the final edit.
Deliver in Minutes, Not Days.
Because our system starts rapidly editing as soon as you drop the camera in, customers can now share their videos within minutes of their ride while they are still excited.
Make Fewer Mistakes
Revl automatically corrects human error. If too many or too few clips are recorded or the camera is left recording, Revl will still correctly edit the final video.
View and share on the Revl App.
Direct Download to Phone
Revl app is the best way for your customers to download their videos directly to their phone.
Customizable Music
Customers can easily personalize their final video by adding their own music from their library or choosing from provided license free music.
One-Tap Sharing
With one tap, customers can share their video directly to social media.
Your Video Sales Wingman
It's now easier than ever for customers to select their media packages. Now they can visually see the differences between each package, price, and what's included.
Tailored to Your Attraction
Customizable to show videos, photos, messaging and pricing from your race track.
Flexible to your Operation
Customers can be onboarded before or after their experience depending on what fits best for your business.
Manage videos from anywhere.
Safe and Accurate
Videos and photos are automatically delivered to the right email address and safely stored forever.
Faster Customer Support
Now any staff member can quickly provide customers support when needed.
Raw Footage Access
Customers who request the raw footage can easily be sent a download link to their video files.
The best camera for racing experiences.
Ultra Reliable Camera and Firmware
The Revl camera is extremely durable, rugged and reliable. Designed for heavy daily use. It includes super reliable firmware that operates without freezing or crashing.
One Camera Instead of Two
Revl only requires one camera to provide Video + Photo packages to customers.
Looks Bad Ass (Let's be honest)
The Revl cameras sleek and modern design blends in perfectly with the interior of a car allowing customers to experience the true feeling of premium vehicles.
Custom mounting solutions.
Helmet POV Mount
Mounting the Revl Arc is super easy. Just twist it on and it's locked in. No more buckles, screws and sore thumbs.
Two-way Rear View Mirror Mount
Records both passengers inside the vehicle as well as the front dash view of the car.
Exterior Surface Mount
We can mount cameras on the car exterior for a unique perspective.

An end-to-end solution – packed with powerful features.
Generates Revenue
Offer more video and photo products, cut costs, scale with no extra overhead as your video volume increases.
Instant Delivery
Customers can watch and share their experience videos and photos right after their activity.
High Quality Videos
We create professional video templates that include B-Roll, animated intros, and outs and the rest is done by A.I.
Social Media Package
Deliver multiple videos, curated photos, and social media content that is instantly shareable.
Your Own Cloud Storage
Videos, photos, and raw files are safely stored on the Revl cloud at no extra cost, and can be accessed from anywhere at the click of a button.
Mobile Apps
Customers can download their media from the the Revl App, customize the music of their videos, and share directly to social media.
Optional Gimbal Stabilization
The 4K Revl Arc camera captures comes with an optional gimbal mount that allows anyone to capture stable video in any environment.
Easy Video Management
Manage and monitor videos without any knowledge of how to edit. Resend videos, raw footage, and even quarantine unwanted videos.